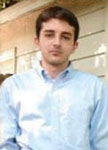 Patrick Keys edits Y Combinator Universe, an independent resource of news and information about startups and technology.  Patrick Keys has been featured in mainstream news, business journals, and technical publications. Patrick's work has appeared in places like Business Insider and San Francisco Chronicle.
Financial Interests
Patrick has no financial interest in any company mentioned, unless otherwise stated.  He also receives no consideration from any company, unless otherwise stated.  Opinions expressed by Patrick Keys are his own and do not necessarily represent those of anyone else.
Industry Experience
Patrick has more than twenty years of real-world experience following the high-tech industry.  He was on the Internet with the original graphical web browsers in the early 1990's. Patrick lived in San Francisco at the height of the dot-com era.  Patrick incorporated his first start-up, Transtelligent, at the age of 18 in 1999.  Transtelligent was a full-service systems integrator and consulting firm for businesses in a variety of industries.
Formal Education
Patrick Keys is an associate member of the State Bar of Texas and authorized to practice law. Patrick is finishing a Juris Doctor law degree and holds a Bachelor of Business Administration majoring in Management from University of Houston.  He also has teaching credentials from California Commission on Teacher Credentialing and Texas Education Agency.
Share this post: