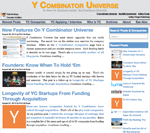 Y Combinator Universe has some recent upgrades that are worth mentioning.  The search box on the sidebar now searches the company database.  Filters on the Y Combinator Companies page have a cleaner appearance and per-market company count.  Each funding batch is viewable on its own page.  There's also a browsable archive of all blog posts.
Search box on the right sidebar labeled "Search Posts & Companies" searches both posts and companies.  Previously, the search box only searched blog posts.  Search results are a single list of matching blog posts followed by details for matching companies.  Company searches match either the company name or any word contained in the company description.  For example, searching for "science" results in Science Exchange, along with results like Quartzy and WakeMate.
Filters on the Y Combinator Companies page also have a more legible appearance using fixed-width columns.  This craigslist-style layout is easier on the eyes than the previous magnetic poetry.  Each market also displays a count of the number of companies in that market.
Each Y Combinator funding batch is now viewable on its own page.  From the right sidebar "Browse Known Companies" list, simply click on the batch you would like to view.  That will take you to the appropriate section on the consolidated Y Combinator Companies page.  Underneath the orange heading for the round, click "View this round on its own page".  Individual pages for each batch and the consolidated company list access the same database , automatically update at the same time, and always contain the same data.
Browsable archive of all the blog posts on this site has also been added.  Title and publication date of posts are listed.  Blog posts are sorted by month in reverse chronological order.
These new features respond to requests I've received and observations I've made from web traffic statistics.  Visitors could always view the company list and search for companies using their browser's "Find on this page.." with Command+F / Control+F.  However, mobile browsers don't have that feature.  Also, many site visitors land on the company list through search engine terms like "y combinator travel" and "yc s13 companies".  The better market filters and one-batch-per-page option make it easier to view that data.  The archive of blog posts makes it easier to browse previous posts for information you may not necessarily be seeking yet might find useful.
Enjoy!
Share this post: