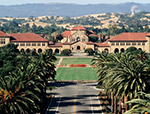 Stanford is a great place to read and write.  Startup founders and employees have always frequented Stanford for various reasons.  Some of them are also students.  So the school is also a good place to network and meet people.  I thoroughly enjoy my experience whenever I visit The Farm, which at one time in my life was almost daily.  Thinking about Stanford brings back only good memories.
Places To Work
Meyer Library was always my go-to spot because its first floor was Stanford's 24 hour study hall and I often write at night.  The second floor, only open until 10 P.M., had sofas to sit on and a copy center, including two free high-end Makerbot 3D printers.  Because Meyer's first floor was mostly a big open space, sometimes groups of students would convene there to celebrate.  Occasionally streakers would run through the place.
During the day, I often sat at the picnic tables outside the Gender Studies Building.  It's across the street from the undergraduate dorms and next to the Tresidder parking lot where I usually parked.  I'd bring my dog with me, sit at the picnic tables, work on my laptop, and watch people jog by on their way up to the jogging trail around Lake Lagunita.
Old Union was another place I'd frequent.  Old Union consists mostly of two floors of big open conference rooms and a lounge area.  Green Library, next to Meyer, was a place I'd go once in awhile to read and work.  It's one of Stanford's main libraries and usually very quiet.
Where to Eat
Tresidder Memorial Union was where I would most often sit to have a quick dinner.  Tresidder has a dining hall with several rows of dining tables and a communal microwave.  I'd usually just get a frozen dinner at Trader Joe's across the street from Stanford and warm it up in the Tresidder microwave.  Tresidder has a Panda Express, Subway, Starbucks, and Jamba Juice.  Behind Tresidder's dining hall is a small convenience store and The Treehouse, a reasonably-priced pizza-by-the-slice restaurant.  Next to Tresidder is the CoHo Coffee House.  I always thought CoHo was a little loud, though, so I didn't go there too often.  Axe & Palm is a cafe located in Old Union.  It has a couple pool tables and is usually open until 2 a.m.
Campus Life
Lake Lagunita is an empty lake located west of Tresidder and Old Union, with a jogging trail all the way around it.  The lake is usually empty because apparently some rare salamanders breed there and the water threatens their ability to reproduce.  Or something like that.  Anyway, the empty lake is a big open space often used to fly drones, remote control airplanes, and launch rockets.  Sometimes people lay out there and tan.  The sides of the lake are also a good place to sit and read.  Some afternoons I'd bring my dog, her water bowl, a jug of water, and a book to read.  Then I'd just sit on the side of the lake and read all afternoon.
Hackathons are often held all over the campus.  I attended many hackathons at Stanford, usually in the engineering buildings.  As I recall, Stanford BASES, the Business Association of Stanford Entrepreneurial Students, hosted some of the hackathons.  At those hackathons, I met many smart, creative, ambitious students working on all sorts of interesting projects.  Companies and well-funded startups would often sponsor the events and use them as opportunities to recruit.
Around the campus there's also interesting stuff going on outside.  Since time immemorial, Stanford's juggling group has been juggling on a near-daily basis on the campus, usually in the grass outside Old Union.  Singing groups and a cappella are also popular and can often be heard practicing and performing.
Wildlife
Stanford has its share of wildlife.  Being so close to the ocean, Stanford often gets visited by rare and interesting birds that are just passing through.  I also often saw families of raccoons.  They were always friendly.  I kept a Ziploc bag of my dog's Kibbles 'n Bits in the trunk of my car.  Whenever I'd see the raccoons, I'd go get the kibbles and put a scoop on the ground for them.  The raccoons would walk over, sit up on their back legs, and pick up the kibbles one at a time with their little hands.  Over the years, I got to know them well.  The raccoons would recognize me and walk up to me.  I'd kneel down, give them a handful of kibble, and they'd tell me stories and the latest campus gossip.
Meeting People
Famous entrepreneurs and politicians are always visiting Stanford.  Many are alumni.  I met some of them casually in passing.  For example, I met David Kelley, the founder of IDEO, while in line at the Stanford Starbucks.  60 Minutes had aired a segment just a week earlier about him and his d.school at Stanford for industrial design.  I often saw Google co-founder Sergey Brin hanging out at Stanford and spoke with him a few times.  He's just a regular guy.  Wikipedia states that Stanford is the alma mater of 30 living billionaires, 17 astronauts, produces many members of U.S. Congress, and affiliated with more than 60 Nobel laureates.  I'm not surprised.  The campus is just a great environment.
More Than A University
I've intentionally avoided using the word "University".  Yes, Stanford is officially a school.  However, to refer to it as "Stanford University" possibly makes it sound boring and uninspiring.  Stanford is very much the opposite of boring and uninspiring.  Stanford's campus is designed to enable smart people to be their most productive and encourage creative thinking.  There seems to be a conscious effort to promote collaboration, particularly among people studying different disciplines.  Everything about Stanford is wonderful.
Share this post: