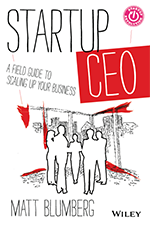 Startup CEO is a book about scaling a startup from inception through revenue and growth.  The book is organized into five parts: storytelling, building human capital, execution, organizing a board of directors, and managing yourself and others.  Startup CEO is written by Return Path co-founder Matt Blumberg.  Return Path is a global data solutions provider recently named by Fortune as one of the best medium-sized companies to work for.  Like Venture Deals, this book is part of the Startup Revolution series.
What A CEO Does
The role of chief executive is not a glamorous job.  Entrepreneurship is management, which necessarily requires tough decision-making.  Startup CEO's forty-seven chapters are divided into five parts that cover every major aspect of being a company's chief decision-maker.  Storytelling is defining a startup's vision and communicating it to all stakeholders.  Building Human Capital involves running the people side of the company, from creating a culture through the full cycle of employment.  Execution covers things like financing, budgeting, meetings, and setting goals.  Managing a Board of Directors requires organizing an effective board and working with them.  Finally, Managing Yourself and Others is about prioritizing, having an agenda, working with others, staying motivated, and maintaining balance between work and personal life.
Book Organization
Startup CEO is very comprehensive and well-organized.  Many chapters contain sidebar comments and anecdotes by other executives, adding additional perspective to the various topics.  This book could be better edited, though.  Material sometimes seems redundant between chapters.  As somebody that enjoys non-fiction, I felt the overall flow could be smoother.  But don't let that stop you from reading it.  I recommend Startup CEO as a solid resource about running a startup that is written by somebody with real-world experience.
Serious Business
All too often these days, I hear about interesting new startups that very quickly give up or get acqui-hired.  Perhaps co-founders of companies like that didn't fully grasp upfront that running a real company is real work.  And when you have employees, your decisions as an executive directly effect other peoples' lives.  It's all serious business.  Books like Startup CEO are worth reading before starting a startup just to understand the commitment of time and effort required to succeed as an entrepreneur.
Startup Revolution
Of the Startup Revolution series, I've only read Venture Deals and Startup CEO.  The other books include Startup Boards, Startup Communities, Startup Life, and Do More Faster.  All these titles are written by skilled professionals with many years experience that know what they're writing about.  I look forward to reading more books in the Startup Revolution series.  For any would-be entrepreneur and also experienced startup executives, I enthusiastically recommend Startup CEO.
Share this post: