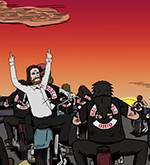 My writings from the first several years of this blog were often written at Stanford University in the Meyer Library.  Don't look for the building on campus.  After more than forty years, it's not there anymore.  Hugh Hefner recently passed away.  And Tom Petty.  And the namesake of the Monty Hall problem.  All gone.  Eventually I will get around to redesigning this site about not just startups, but a mix of popular culture and technology.  Like Wired.  Nerdist.  Laughing Squid.  Boing Boing.  This blog has already jumped the rails from technology to whatever I feel like writing about.  But the theme of any blog doesn't really matter anymore anyway because the vast majority of visitors land on a site, not on the home page, but on whatever specific post shows up in the search engine search results for whatever they searched for.  I feel obligated to write something because I haven't in awhile.  I'm just kinda rambling, though, so don't mind me.  Just go on with whatever you're doing.
Celebrating Life
Tales From The Tour Bus is a new documentary series on Cinemax by Mike Judge about legendary country music artists.  Some of the show's subjects, like Johnny Paycheck and Tammy Wynette, are dead.  These people were alive and raising hell.  Until they weren't.  Its a cool show by the creator of Office Space, Silicon Valley, and Beavis & Butt-Head.  And with all the negativity in the news these days, its nice to watch something positive that celebrates life.
Hugh Hefner
Hef founded Playboy.  And Playboy was arguably the most important and culturally significant magazine of the second half of the twentieth century.  It also reminded several generations of guys what it meant to act like a gentleman.  In the long run, history will have little to say about Hugh Hefner's depiction of naked women and much to say about his impact on free speech and civil rights.  People did, in fact, often read Playboy for the articles.  A good documentary about the subject is Hugh Hefner: Playboy, Activist, Rebel.
Tom Petty
Tom Petty's passing is still kinda unbelievable.  Some famous people were famous before you were born, are famous your entire life, and its strange when they die.  It's like "Damn, if they're gone then any of us can go."  By all accounts, Tom Petty was just a cool guy.  I grew up listening to his music through the '80s when he and The Heartbreakers had one hit after another.  For whatever reason, I also remember Tom Petty would show up on It's Garry Shandling's Show once in awhile as Garry's TV show neighbor.  And that's another one gone.  Garry Shandling was also funny and died suddenly about a year ago.  So ya see, it's like cool people keep disappearing on us?
Let's Make A Deal
Monty Hall also passed away recently.  He created the show Let's Make A Deal.  Its still on television and I watch it once in awhile.  The show involves contestants wearing funny costumes starting with a small deal and trying to trade up, while not getting zonked and losing everything in the process.  Let's Make A Deal also spawned the precalculus game theory concept called the Monty Hall Problem.  Sometimes on the show there's three curtains for the contestant to choose from.  Behind one curtain is a cool prize like a new car.  Behind the other two curtains are goats.  Sometimes you win.  Sometimes you lose.  That's life.
Well Its All Right (End Of The Line)
Share this post: