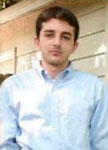 Patrick Keys edits Y Combinator Universe, an independent resource of useful information about Y Combinator and YC-funded companies.  Patrick Keys has been featured on Business Insider and San Francisco Chronicle.
Patrick has no financial interest in Y Combinator nor any company funded by Y Combinator.  He receives no consideration in exchange for any company mentioned.  Opinions expressed by Patrick Keys do not necessarily represent those of anyone else.
Patrick has twenty years of real-world experience following both technology and the high-tech industry.  He was on the Internet with the original graphical web browsers in the early 1990′s.  Patrick lived in San Francisco at the height of the dot-com boom.   Patrick incorporated his first start-up at the age of 18 in 1999.
Patrick Keys has a Bachelors of Business Administration majoring in Management from University of Houston.  He presently resides in Silicon Valley, California.