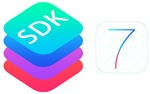 Apple iOS 7 iBeacon is a big opportunity for startups and developers.  iBeacon's potential is like iPhone App Store in 2008: early iBeacon-enabled products will get all the attention.  New markets could result from novel and innovative uses for this technology.  iBeacon has specific opportunities for both apps and devices.  Apple's iBeacon Bluetooth profile is part of Apple's iOS Core Location Framework.  Understanding iBeacon also requires a quick discussion of Bluetooth Low Energy, also known as Bluetooth Smart.
Bluetooth Low Energy, a.k.a. Bluetooth Smart
Bluetooth Low Energy (BLE), a.k.a. Bluetooth Smart, makes Apple's iBeacon possible.  Bluetooth LE is distinctly different than "Bluetooth Classic".  BLE radio signals can be detected without previous pairing.  They also estimate distance between themself and other BLE devices by measuring received signal strength indication (RSSI).  A good explanation of all this is on Estimote's developer website.
"Bluetooth Smart Ready" means a device supports both Bluetooth Classic and Bluetooth LE.  "Bluetooth Smart" refers to LE-only devices (usually battery-operated sensors).  The Bluetooth Special Interest Group has new branding decals for each class of product.
Apps
The simplest iBeacon-enabled apps will greet you when you walk in the door of an establishment and offer discounts and product information.  Private check-in experiences are another possibility.  Communicating directly with other iBeacon-enabled devices means the possibility of meeting people at events and exchanging contact information without having to first disclose your location on third-party services like Foursquare.
The medical industry could particularly benefit from the privacy offered by iBeacon.  drchrono and Medisas are two companies that provide HIPAA-compliant handling of patient electronic health records (EHR) and medical records (EMR).  iBeacon could enable patients to securely and directly obtain their own personal medical records and share that information with other physicians and caretakers.
Devices
Estimote Bluetooth LE Sensors Hit Homerun With Apple iOS 7 iBeacon is a post about Estimote Beacons.  That product is a full-featured computer with an ARM processor, memory, and various sensors.  Its 2.4 GHz Bluetooth LE  radio is what enables iBeacon.  BLE radios can be integrated into other devices like wearables (Pebble Smartwatch),  self-serve kiosks (E la Carte menus), and toys (ixi-play robot).
BeLuvv Guardian (not YC-funded) is an example of a BLE wearable.  The Guardian is a Bluetooth LE sensor designed to fit into a custom belt buckle or bracelet.  Together with the BeLuvv Guardian iBeacon-enabled iOS app, you can find your kids in the park, crowded places, and keep them from wandering too far.  BeLuvv's website also indicates an upcoming similar product for pets.
Using The Louvre Museum as an example, the two-part iBeacon tutorial embedded at the bottom of this post describes uses in brick-and-mortars.  Tour guides, clunky proprietary headset systems, and push-button information panels could all be replaced with BLE sensors.  Guests could automatically obtain details about artwork and sculptures directly in front of them.  Visitors also get a more interactive and self-paced experience.
Toys are another potential market, especially closer to Christmas.  IXI-play, from YC S13, is an 8″ tall robot with three apps: baby monitor, language learning, and emotion/animal cards.  Such a toy could be used to interact with iBeacon-enabled iPad apps and objects with BLE sensors.  Action figures with sensors could be used with companion iOS apps for new types of games.  Imagine action figures with BLE sensors that say different phrases based on the proximity of other action figures.
Conclusion
Early iBeacon-enabled products will get all the attention as examples of this exciting new technology.  Therefore, Apple iOS 7 iBeacon is a big opportunity for startups and developers.  Existing products can create new interest simply by adding iBeacon support.  Novel and innovative uses for this technology could results in entirely new markets.  There is no better time to develop for Apple iBeacon than now.
Share this post: