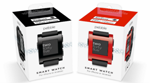 I bought a Pebble smartwatch today at Best Buy.  Special holiday pricing ($119), a $30 instant coupon for anybody with a .edu email address, and extended return policy all influenced the purchase.  I had also been waiting for more apps and watchfaces.  Here's my first impression of Pebble having finally bought the smartwatch.
Out-Of-Box Experience
Pebble's out-of-box experience is alright.  The box itself is Apple-like in both appearance and function.  Lifting open the box reveals the watch.  Underneath the watch are the charger cable, quick start booklet, and warranty.  A "thank you" card and maybe some stickers would've been nice.  Little extras do add up and affect the long-term impression of a product.
The Quick Start Guide doesn't explain how to power on the watch for the first time.  Holding down any of the four buttons for several seconds will start Pebble.  However, that information should've been in the booklet.  How long to let Pebble charge the first time is also not mentioned.
Updating to the latest firmware is fairly smooth.  The Pebble iOS app automatically checks the Pebble website for the latest firmware, downloads it, and transfers it to the smartwatch using Bluetooth.  Pebble smartwatch shows a nice animated meter during the process.
Using Pebble
Pebble's display is more crisp than it looks in pictures.  The e-paper technology is easy to read.  The backlighting is sufficient for viewing the display in low-light conditions.
Watchfaces work surprisingly well.  Watchfaces is just one app, and all downloaded watchfaces are effectively skins. Pressing the Up and Down buttons on Pebble scrolls between all your watchfaces.  That makes it easy to use different watchfaces for different purposes, like analog time and a calendar.
Getting new watchfaces is a rather convoluted process, though.  Browsing for watchfaces realistically requires the MyPebbleFaces iOS app.  Watchfaces are downloaded into MyPebbleFaces, individually copied to the Pebble app, then transferred to the watch.  I personally found the easiest way to find new watchfaces was signing up for free on the My Pebble Faces website, browsing the My Pebble Faces website on my MacBook, favoriting the watchfaces I wanted, and then downloading my favorites list in the MyPebbleFaces iOS app.
Pebble doesn't display any diagnostics info.  Battery life and storage space aren't shown anywhere, even in the Settings app.  Pebble's unfinished SDK 2.0 apparently provides those details.  Some of the beta watchfaces for Pebble SDK 2.0 already show that information.  However, that's all beta software and not publicly available for iOS.
An official desktop app similar to iTunes would be useful.  Pebble can be paired with multiple devices at the same time.  Controlling VLC, Apple TV, and the Nest thermostat could be convenient.  TokenLock is already one proof-of-concept Mac OS X app that locks or unlocks your Mac based on Pebble's proximity.
Conclusion
This is what I meant when I said Pebble needed to get aggressive.  Under $100 after special pricing and coupon makes Pebble much more within reach for people willing to try something new.  I'm satisfied with the purchase.  The price was fair for a first-generation product by a new company.  Pebble's upcoming SDK 2.0 means I can also look forward to seeing new apps and use-cases.  Best Buy's holiday return policy lets you return the product by January 15 instead of the usual fifteen days, simply by requesting a gift receipt at checkout.  That means you can try Pebble for an entire month to form your own opinion.
With aggressive pricing and extended return policy, there's no better time to try Pebble.
Share this post: