Estimote, from YC S13, makes small wireless sensors called beacons that use Bluetooth Low Energy (BLE) to communicate with nearby smartphones.  Apple's new iBeacon in iOS 7 supports Estimote Beacons, allowing developers to add micro-location features to mobile apps.  Major League Baseball recently demo'd personalized stadium experiences using its At The Ballpark iOS app and Apple iBeacon.  Earlier this month, Estimote won Best Hardware Startup at TechCrunch Disrupt SF.
Apple iBeacon has many real-world uses.  Retailers can enhance every phase of the shopping experience: proximity marketing, check-in coupons, in-store product information, and contactless payments.  Event experiences become more unique and personal, as demonstrated by the Major League Baseball example.  Sensors like Estimote Beacons also simplify collecting valuable like location traffic and customer preferences.
BLE sensors like Estimote face the competing technology of Near-Field Communication (NFC).  NFC has the benefit of already having existing support by many retailers.  However, NFC requires a smartphone with special NFC hardware.  Apple iPhones don't have NFC, yet iPhones collectively hold as much as 40% of the U.S. smartphone market.  Near-Field Communication also requires a much shorter distance than Bluetooth (a few centimeters for NFC versus 9 meters for Bluetooth).  Estimote Beacons last for two years on a single coin battery, reach smartphones as far as 160 feet (50m), and work on iOS 7 and any Bluetooth-enabled device that has the iBeacon Bluetooth Profile.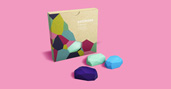 Estimote is available for pre-order now.  Batches of the Estimote Beacons are already shipping.  Estimote has a well-documented API,  complete with tutorials and demo apps.  Estimote also recently released a free Estimote virtual beacon app on Apple iOS AppStore.  Now that most iPhone users have upgraded to iOS 7, developers will certainly start to find creative uses for iBeacon and Estimote.
Share this post: