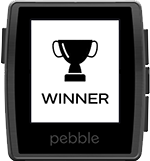 Pebble Smartwatch has announced the sixteen finalist apps in its first-ever Pebble App Challenge.  The developer of each of these apps will receive a Pebble Steel.  These sixteen apps will also compete through the first week of April to determine the winner of the $5,000 prize.  Each app submitted to the contest has its own app details page on the Pebble App Challenge website.  Many of these apps have video demonstrations, which are worth checking out.  Below are details of all sixteen finalist apps.
MagikSlide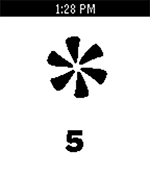 MagikSlide is a magical way of performing Powerpoint or Keynote presentations. It uses Pebble's accelerometer to detect shake and controls presentation to go to next slide.  Along with this feature, the upcoming animation is displayed on Pebble screen using an image.  Using this feature user can create an impression that he is actually creating animations and impress the audience.  Animation are set using an Android app.
Smartwatch+
Smartwatch+ allows you to display additional information on your watch, such as weather, your iPhone's battery status, current stock and Bitcoin prices, your current GPS location, your latest calendar appointments, as well as reminders. Additionally, you can control certain functions of your phone from the watch, such as taking pictures, controlling the music volume, playing a sound to find your phone, and sending HTTP requests for home automation, etc.
Pebble Movies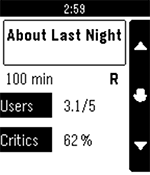 Pebble Movies allows you to browse movie showtimes in local theaters near you.  It also provides you with a QRCode to make online purchases.  You can choose to browse by theaters or by movies currently showing.  Movie showtimes for Argentina, Australia, Canada, Germany, Spain, France, United Kingdom, and United States are currently supported.
Pebblin'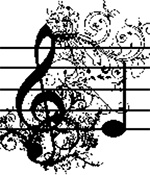 Pebblin' is an "air violin" developed on a Pebble smartwatch and an Android smartphone.  Pebble acts as the "bow" for the violin, while the phone acts as a "fret".  The angle of the watch and which button is pressed on the companion phone app determine the pitch that is produced, while the speed of the watch determines the volume.  We also have a HUE-enabled tutorial culminating in a lightshow accompaniment, teaching you the finger positions and bow angles needed for success. To preserve your Pebblin' compositions, we integrate with the SendGrid API to create snapshots of your most recent tunes, emailed to you right from inside the app.  As a bonus, we've included some other fun sounds, including brass, piano, drums, woodwinds, and a full orchestra.
Pebble Communicator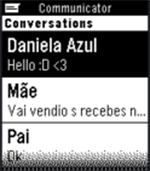 Pebble Communicator is an app built so you can read and send SMS without taking out your phone.  With Pebble Communicator you can even type your own SMS using Tertiary Text, an input method by vgmoose which allows you to write using only Pebble's three buttons.
Rebble
Rebble is Reddit on the Pebble Smartwatch.  With Rebble, you can easily view Reddit on the go.  You can read threads and view linked images. You can sign in and browse your favorite subreddits and even upvote and save your favorite posts.  You can even downvote those other guys. No companion app is required.  Code is open-source and on GitHub: https://github.com/Spacetech/Rebble
PebblePool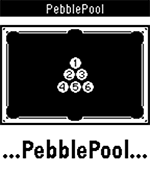 PebblePool turns your Pebble into a tiny pool table.  Test your basic billiard skills.  You can choose between free play mode (try to get your top score in one single round) and qualify mode (a six-round challenging experience).  How many balls will you be able to score without a miss?  Do your best!
PebbleBan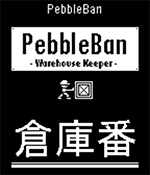 PebbleBan is the great classic Soukoban (Warehouse Keeper) on your Pebble.  Includes these nice features to provide a joyful experience: 50 small levels, Undo, Save State.  Do you dare to tidy all 50 warehouses?  Can you achieve it in fewer movements?
Glance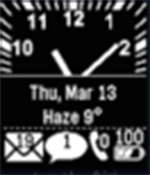 Glance provides information and SMS messaging directly from your Pebble.  Watch screens show weather and unread message counts.  Read and respond to SMS messages.  Get train times, bus times, and stock prices all at the click of a button.
AutoPebble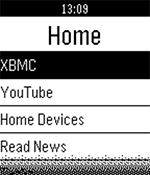 AutoPebble is a Tasker plugin that allows you to completely customize your watch.  AutoPebble is to the Pebble what Tasker is to your Android device.  With all its versatility it allows anyone to build mini-apps on their Pebble that can replace many other apps.  It's just like bringing Tasker into your Pebble.  As featured on Android Police (http://goo.gl/UbFgS9), Android Authority (http://goo.gl/HzNFeO) and Android Headlines (http://goo.gl/3fAA4L).  With AutoPebble, you can create dynamic home screens, lists, notifications, quick screens, text screens, motion actions, short long and double-click actions, custom vibrations, control the pebble light, and do all this from the Pebble music app if you like.  Check out AutoPebble in detail here: https://play.google.com/store/apps/details?id=com.joaomgcd.autopebble
Futura Weather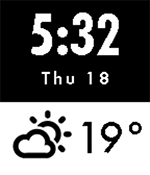 Futura Weather shows you the current weather conditions at a glance.  Also keeps the weather information updated every 15 minutes, indicates if the weather information is stale, and gives you a heads-up if your Pebble loses its connection to your phone.  Based on work by Katharine Berry (WeatherWatch) and Martin Rosinski (Roboto Weather).
Pebble Bike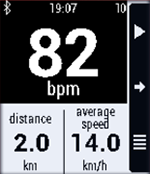 Pebble Bike is a GPS cycle computer. It uses your phone's GPS to send speed, distance and altitude data to your Pebble.  You can also see your track directly on your Pebble.  If you got a Bluetooth LE (4.0) Heart Rate Monitor, you can also display your heart rate in Pebble Bike.  Please note it does not work with "classic" bluetooth HRM.  Pebble Bike also has an innovative auto start feature which will auto start the bike computer on your watch when it detects you are riding a bike, using low battery technology pebble bike checks your activity every 30 seconds, so low power in fact you can leave this switched on all day.  Pebble Bike has a Live Tracking function that sends your position every 30 seconds to the internet.  If you're using it with your friends, it can receive their positions and display those with your own track, directly on your Pebble.
Music Boss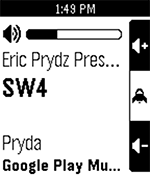 Music Boss gives you total control over your music/audio apps.  Adjust music volume, change current music app and even launch your current music app.  Quickly open a list of your music apps (on your watch) and select and launch it with one press.  Music Boss is also integrated with Glance, Canvas and Pebble Tasker to quickly return to these apps when you're done.  The Music Boss Tasker Plugin allows you to customize your experience based on whatever conditions suit your needs.  The Music Boss watch app is customizable via the Android Companion App.
Mr.Handy
Mr.Handy is web-enabled flashcards for Pebble.  Edit and manage your collections in your web browser and sync with your Pebble.  More details at http://andrwj.github.io/mr.handy/
Forecast Weather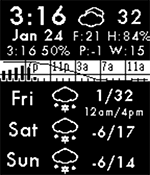 Forecast Weather is a  detailed weather data app.  Data from forecast.io API (or openweathermap.org), detailed screen, and big weather screen.  Forecast for 3 days weather alerts.  Precipitation by hour for 24 hours.  Temperature trends for 24 hours.  Current weather (temp, pressure change, wind speed, feels like temp, humidity).  Precipitation by minute for 15 minutes.
Morpheuz Sleep Monitor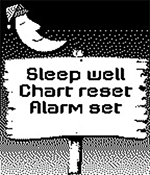 Morpheuz Sleep Monitor lets you monitor your night's sleep.  Morpheuz uses the Pebble accelerometer to track your movement during the night and transmit that data back to your phone.  Information is viewed on your phone as a graph and as a chart of the time spent in deep sleep, light sleep, and "potentially awake" states.  Morpheuz includes a Smart Alarm facility to set an earliest and latest wake-up time.  The app also includes a Power Nap feature.  Once activated, Morpheuz starts a countdown once you stop moving, giving an optimum 27 minutes of rest before stirring you with gentle vibration.
Good luck to all the finalists in the Pebble App Challenge!
Share this post: