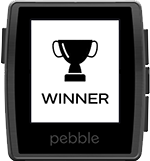 Smartwatch+ has won the Pebble App Challenge.  The contest began with 218 contestants.  Public voting resulted in 16 finalist apps.  Finalists competed throughout this week in a series of bracket-based votes by registered Pebble users.  The final match-up was Smartwatch+ against Glance.  All  sixteen finalists each receive a Pebble Steel.  The developer of Smartwatch+, Robert Hesse, also wins the $5,000 prize.  Here's some details about Smartwatch+.  The Pebble App Challenge also provides some insight into how people actually use smartwatches.
Smartwatch+
Smartwatch+ allows you to display additional information on your watch, such as weather, your iPhone's battery status, current stock and Bitcoin prices, your current GPS location, your latest calendar appointments, as well as reminders. Additionally, you can control certain functions of your phone from the watch, such as taking pictures, controlling the music volume, playing a sound to find your phone, and sending HTTP requests for home automation, etc.  Smartwatch+ supports the httpebble protocol, which lets you use all httpebble-enabled watch apps.  The companion iOS app for Smartwatch+ is available on iOS AppStore.
Notifications/Alerts, Sports/Health/Fitness, and Remote Controls
Pebble co-founder Eric Migicovsky spoke with Bloomberg TV's Emily Chang last September.  The discussion topic was Pebble's strategy against Samsung's just-released Galaxy Gear.  Mr. Migicovsky said Pebble has been "focusing exclusively on the developer experience, figuring out why developers want to build apps for the watch, what are the types of experiences that people are going to build on the watch."  That focus presently means expansion into "notifications and alerts, sports/health/fitness, and remote controls."  In contrast, Samsung simply built an Android device with a smaller screen.
Pebble's strategy is working.  Galaxy Gear has sold poorly, with Samsung conceding using Android was not the right approach.  Meanwhile, Pebble's app ecosystem continues to grow.  Of the 218 apps submitted to the Pebble App Challenge, approximately half of the sixteen finalist apps were either remotes or provided notifications.  The final two contestants, runner-up Glance and winner Smartwatch+, both provide alerts and notifications.  Mainstream brands like ESPN, Yelp, Foursquare, Pandora, and even Mercedes-Benz are also developing apps for Pebble.
Congratulations to Smartwatch+ and all the other contestants in the Pebble App Challenge!
Share this post: