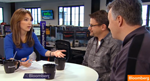 Paul Graham keeps showing up on Bloomberg TV.  Yesterday, Emily Chang of Bloomberg West did an interview with PG about billion-dollar startup valuations.  He was on there for about fifteen minutes with David Hornik of August Capital.  The take-aways from that interview are:  Y Combinator's total value is about $10 billion, Airbnb and Dropbox are collectively 75% of YC's value, YCS12 had 86 companies, YCW13 has 47 companies,  the "portfolio effect" requires investing in many startups, most startups will obviously fail, big ideas always seem like they'll fail, and startups are high-risk investments.
Emily Chang also asked Mr. Graham about YC now investing less money per startup, to which Paul Graham stated "we invest the same amount of money".  That simple statement is technically true.  However, I'd add Ms. Chang was also correct.  YC VC invests only $80k versus the previous $150k invested by Start Fund.  According to Paul Graham himself, "experience showed $150k was too much."
Demo Day for YCW13 is March 26.
Share this post: