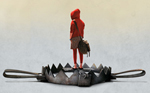 Kytetime is an app and service that enables parents to monitor their teen's Android smartphone.  The app, available on Google Play, lets parents schedule when apps can be accessed and uses the smartphone's GPS to track their kid's whereabouts.  The service, Parent Dashboard, uses the app's data to create reports about app usage, viewed Internet sites, and a history of locations submitted through the smartphone GPS.
Kytetime's most useful and important feature, in my opinion, is the GPS tracking.  It's always a good idea to let somebody know where you are, no matter what your age.  Kytetime's GPS Tracker automatically posts your current location on the private Parent Dashboard.  Kytetime also stores a list of previously posted locations.

Kytetime is from the same makers of Kytephone, from YC W12.  Kytephone is the "Safe cell phone for Kids", designed for young children and featuring a simple interface for using the phone and restricted access to apps. Kytetime is designed primarily for teens, without the custom interface and with a greater emphasis on letting parents monitor usage versus blocking access.
Kytetime is a free download on Google Play, which includes a free 14-day trial of the Parent Dashboard.  Subscriptions to Kytetime Parent Dashboard are $5/month or $40/year.
Share this post: