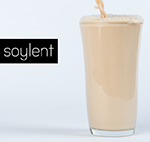 Soylent is a dry powder shake mix designed as a meal-replacement drink.  The mix contains "an assortment of… vitamins deemed medically necessary for a person to live."  Soylent, a product of Rosa Labs, started as a Crowdhoster campaign that resulted in over $1.5 million pre-orders.  The meal-replacement drink also just raised a $1.5 million seed round.  Rather than the recipe, Soylent's real value may be the experience gained in building a food engineering startup.
Nutrition Facts
Soylent is not made from people, contrary to its namesake 1973 movie.  The powder mix also contains "hardly any soy".  In a discussion with NPR, Soylent's makers claim the product is gluten-free, vegan, and halal.  The powder consists mostly of oat starch and industrial nutrients.  Vials of fish oil are shipped with the Soylent powder to provide omega fatty acids, allowing the powder itself to remain vegan.  There are separate "blends" for men and women.
The specific formula for Soylent is still unfinished.  Soylent's website indicates the product is currently "version 0.8″  This current version is described as "for anyone who struggles with allergies, heartburn, acid reflux or digestion, has trouble controlling weight or cholesterol, or simply doesn't have the means to eat well."
Investor Interest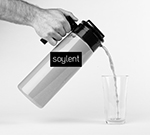 Investors in Soylent's seed round included Andreessen Horowitz, Lerer Ventures, Hydrazine Capital, and Initialized Capital.  In its announcement of the investment, the company states they've "enlisted the help of an illustrious group of advisers."  Those advisors include a professor of human nutrition, co-founder of a genomics company (Counsyl), and the CEO of CytoSport / Muscle Milk.
Similar products like Ensure already exist, available in both powder and pre-mixed shakes.  All of Soylent's co-founders' college degrees and experience consist of computer science and business.  None of their backgrounds involve food manufacturing or food distribution.  So why would investors be interested in funding a startup with well-established competitors and founders lacking any market experience?
Food Engineering
Engineering nutritionally superior foods could be a high-growth market.  Vinod Khosla, famed venture capitalist, recently spoke about his own stealth investments in food startups.  Those investments include a tasty plant-based beef-like patty, salt with less sodium, and Unreal healthy candy.  Twitter co-founders Evan Williams and Biz Stone have also announced their own meatless startup, Beyond Meat.
Soylent's blog is a journal of experiences with FDA approvals, NSF equipment certification, sourcing ingredients, distribution, and working with suppliers.  Understanding all these processes would have use to many food-related startups.  Soylent is the only food product funded by Y Combinator.  Even if Soylent's product is unsuccessful, investing in this type of experiment is justified by the valuable information it will produce for future food engineering startups to avoid risks.
Rosa Labs, funded in YC S12, is the company that makes Soylent.  With the tagline of "Engineering future foods," Rosa Labs strives to be a research and development driven nutritional science firm.
Soylent plans to begin shipping to customers in December.
Share this post: