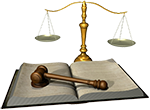 Ellen Pao vs. Kleiner Perkins Caufield & Byers recently concluded its jury trial.  Pao vs. Kleiner Perkins was a gender discrimination lawsuit brought by a former junior partner of a venture capital firm against her former employer.  Ms. Pao alleged Kleiner Perkins denied her a promotion and fired her as retaliation for complaints of sexual harassment.  After two years of litigation culminating in a month-long trial, the jury returned a verdict that Kleiner Perkins did not discriminate or retaliate against Ms. Pao.  I think the publicity of the trial caused the public to made the case into way more than it was.
Merits of the Case
Evidence in this case primarily involved Ms. Pao's complaints of sexual harassment from a married co-worker and reviews of her job performance.  Ellen Pao believed she earned a promotion to senior partner.  Kleiner Perkins concluded her results were not comparable with other partners, she was not a good organizational fit, and ultimately fired her.  Ms. Pao felt she was being let go because she had previously complained about harassment. However, Ellen Pao wasn't being singled out when she was let go.  Kleiner Perkins fired Ms. Pao in 2012 during a round of downsizing.
Trial By Jury
This jury trial dragged on for more than a month.  Many witnesses were called to discuss Ms. Pao's job performance and professional relationships with her co-workers.  The most compelling evidence to me was testimony of other female employees at Kleiner Perkins and proof that Ms. Pao wasn't the only person let go.  The trial's outcome means Ms. Pao's lawyers didn't present a convincing case or make enough effort to draw sympathy for their client.  Her lawyers' inability to build momentum likely meant jurors became increasingly angry at Ms. Pao with each day they had to sit through this trial.  Meanwhile, outside the courtroom, the public began describing this lawsuit as some sort of important civil rights case, which it wasn't.
Conclusion
Ellen Pao was out of work for just six months after leaving Kleiner Perkins Caufield & Byers.  She's now the interim CEO of Reddit, a job she's held for two years.  In his closing argument, Ms. Pao's attorney asked the jury to send a message through its verdict about gender discrimination.  However, every trial lawyer in their closing argument asks the jury to send a message.  The jury's message in this case is they didn't like having their time wasted.
Share this post: