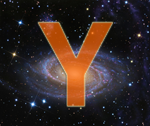 Five years ago, I started Y Combinator Universe to provide information and analysis about the many startups emerging during the new Silicon Valley bubble of 2010.  My original concept for ycuniverse was a micro-blogging platform, along with corresponding consulting services, for research and data about companies, markets, and investors.  WordPress wasn't added here until two years later in 2012.  One of my initial goals was that would-be entrepreneurs would use the data I provided to develop original products and unique business strategies rather than copy existing startups.  Silicon Valley has certainly changed since 2010.  I have big plans for the Y Combinator Universe brand going forward.
2010: The Year We Make Contact
2010 was an interesting year for the high-tech industry.  At that time, I think many people chose to work on new startups because they had almost nothing to lose.  Just two years earlier, the U.S. economy was reportedly in its worst condition since the Great Depression.  There was also the added excitement in 2010 of building momentum in new companies like Facebook and Twitter.  I had lived in San Francisco during the dot-com era and was anxious to gather data about this new generation of startups and share my research.
Looking Ahead
Y Combinator Universe has a bright future.  I intend to build on the Y Combinator Universe brand in the coming months and years with all sorts of new resources, tools, and services.  A few projects I'm working on include a marketplace for startup products and services, a social network to connect founders and investors, and unique tools for researching startup data.  The next five years of Y Combinator Universe will be even more exciting than the last five years!
Share this post: