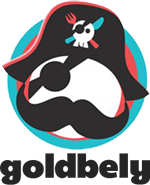 Goldbely is a celebration of America's most delicious and regionally famous gourmet foods.  A team of food explorers personally selects every item offered, making these great eats available to buyers all across the country.  Goldbely has plenty of variety for every taste.  Sweets, meats, seafood, and snacks are all available.  There's also entire sections of barbeque, deli items, and chocolate.  Shipping of orders is directly from food purveyors, often with overnight delivery.  Many items include free shipping.  Make your holidays more festive by bringing great food to the party.  Try Goldbely now and get $15 off your first order of $40 or more by using referral code "YCUNIVERSE" at checkout.
Seasonal Collections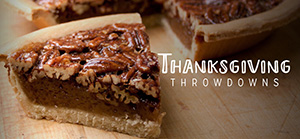 Thanksgiving Throwdowns is just one seasonal collection on Goldbely.  For Thanksgiving, Goldbely provides delicacies like cajun turducken with cornbread stuffing, lobster mac & cheese casserole, buttermilk biscuits, and 4-berry pie.
Goldbely Collections also has top picks for other events and holidays like America's Best Gameday Eats, Iconic American Sandwiches, and Foods Worth Waking Up For.
Regional Favorites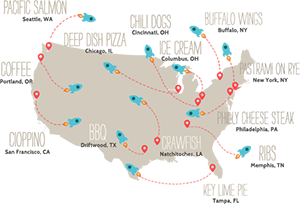 Local specialties are the heart of Goldbely.  Food can be browsed by geographic region: The Northeast, The South, The Midwest, and The West.
Popular favorites are all here like authentic Texas barbeque, Philly cheesesteak, Chicago deep-dish pizza, and New York bagels.  Other local gems include Pacific coast salmon, Louisiana crawfish, Wisconsin cheese bread, Florida key lime pie, and Kentucky bourbon barrel cake.
Order For The Holidays
Sharing good food with friends and loved ones is universally appreciated by every culture.  Eating also puts people in a better mood.  Make your holidays more festive by bringing delicious eats to the occasion and giving the gift of food.  Whatever you hunger, Goldbely has something for every taste.
Share this post:
Related Posts
August 25, 2014 BloomThat Brightens Your Day With Fresh Flowers
September 18, 2013 Goldbely Is Airbnb For Gourmet Food
February 12, 2013 Food Discovery, Catering, & Restaurant Technology Funded By Y Combinator
November 1, 2013 Soylent Is A Nutritious Meal-Replacement Shake Mix And Experiment In Food Engineering By Startups
September 29, 2013 Airbnb Hosts Five-Day "Hello L.A." Event With James Franco, Moby, Anjelica Huston, Lake Bell, & Molly Sims
June 12, 2014 Prizeo Brings Together Celebrities And Charities To Increase Awareness And Raise Money